OPTO-4
Serial Opto Isolator
Isolate an RS232 (PC) port to protect against ground loops. The OPTO-4 provides a safe and low cost way of connecting an NMEA 0183 system to a PC or any other device with a standard RS232 9-pin port.
As a bi-directional NMEA 0183 to RS232 interface cable, the OPTO-4 utilises OPTO-isolation to protect the PC input and spike protection for the PC output, providing comprehensive isolation of PC hardware when connecting to an NMEA 0183 bus.
If isolation in both directions is required, the Actisense USG-2 offers bi-directional isolation in a USB to RS422 (NMEA 0183) form.
The Actisense design integrates an over-moulded case for excellent water resistance and a small footprint for installation into tight spaces.
Ordering Information
(Part number/s)
FEATURES
One OPTO-isolated input
One NMEA output
Up to 115200 baud
Port powered
Shielded cable and case
BENEFITS
Protects PC from damage
Water resistant cable.
Ruggedized overmoulded case suitable for harsh environment
Quick and easy to install
Electrical
NMEA Listener / Input Isolation
2kV Opto-Isolation between Red / Black NMEA Input Pair and all other Connections
NMEA Listener / Input Voltage
+/-15V Continuous Maximum
+/-35V Max < 1 Second
NMEA Listener / Input Signal Thresholds
Logic '0' +2V to +15V, Logic '1'-15V to 0V
NMEA Talker / Output Voltage & Current
Dependant on Host RS232 Interface. Typically +/-5V to +/-15V @ 10mA Max
RS232 Voltage on Host
+/-7V to +/-15V
RS232 Port Total Current Consumption
2mA to 5mA depending on RS232 Voltage
Speed / Baud Rate

4800 to 115200 Baud

Mechanical
Housing Material
PVC Black
Thumb Screw Material
PVC Orange
Screw
Steel, Nickel Plated, M2.8 Thread
DB9 Connector
9 Pin Female
Cable Length
1.5m
Cable Wire
22AWG (17/34AWG) Tinned Stranded Copper
Cable Jacket
PVC
Shield
Internal Copper Foil Shield
Cable Outer Diameter

5.5mm

Approvals and Certifications
Operating Temperature
-20°C to +70°C
Electrical Specification
Meets IEC 61162-2
Weight
100g
Guarantee
3 Years
UL Certification
Cable E137250
RoHS Compliant
One OPTO-isolated input to protect your PC from ground loop damage
One NMEA output
Up to 115200 baud
Powered via PC serial port for simple installation
Shielded cable and case make it suitable for electrically noisy environments
NETWORK DIAGRAM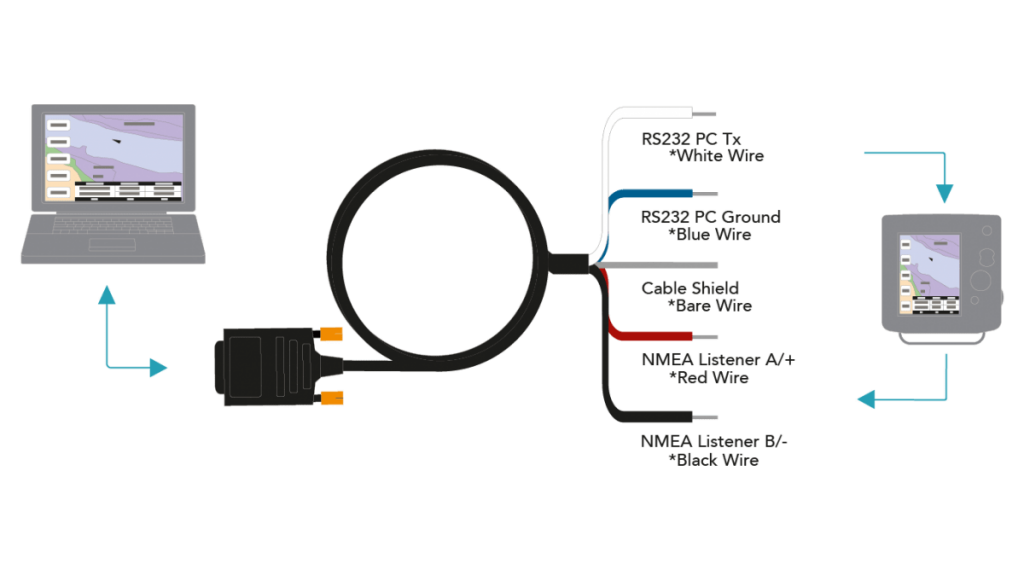 Actisense is dedicated to providing up-to-date software and resources for our products. Here are some useful tools and documentation to help you make the most of your product: