Keep Up To Date with our latest company and product news
Actisense will be exhibiting their award-winning range of NMEA products at METSTRADE 2019, taking place at the RAI Amsterdam Convention Centre between 19th and 21st November 2019.
Actisense, who can be found at stand 03.132 at METS, will be exhibiting their full range of NMEA products, including the two newest products to their range: the W2K-1 NMEA 2000® to WiFi gateway, as well as the SBN-2 Self-contained Boat Network – an industry first featuring 8 micro NMEA 2000® drops with built-in termination and power.
METS is the world's largest trade exhibition of marine equipment, materials and systems. The three-day show features around 1,600 exhibitors from every corner of the marine industry, attracting 26,000 visitors to the annual event.
As a steering member of the NMEA (National Marine Electronics Association) committee, Actisense are helping to shape the industry standards of NMEA 0183, NMEA 2000 and the new NMEA OneNet®. Their team will be taking part in ConnectFest, a 4-hour live demonstration of the NMEA 2000 networking standard with live working products. ConnectFest takes place on Wednesday 20th November from 11am to 3pm, in Room D203 at the RAI, and will give users a unique opportunity to have direct conversations with major manufacturers who have adopted and developed products using the NMEA 2000 protocol.
Phil Whitehurst, CEO of Actisense, said:
"This will be our 19th year exhibiting at METS. We see tremendous value in attending the show as it's a great opportunity to meet our customers, collaborators and distributors all under one – rather large – roof! We encourage anyone wanting to learn more about how NMEA networking can add tangible benefit to their boat to come and say HI to us on our stand and come and take part in ConnectFest with us."
Michael Leggett, Head of Sales at Actisense, said:
"We're looking forward to seeing all our valued customers and distributors at METS, once again. It's a wonderful opportunity for us to engage and find out how our NMEA products can add even more value for them."
Five new talents have been brought in to support the growth of Poole-based Actisense, the market-leading marine electronics company.
Justin Cohen joins the business to take charge of the company's marketing strategy. With over two decades of PR and brand marketing experience, Justin will help identify key growth areas for the business and help to raise the company's presence in those areas.
Amy Miles has joined in the capacity of Compliance Manager. Actisense has proudly achieved ISO9001 and ISO14001 certification and Amy will take the lead in ensuring that those standards are upheld and that key performance metrics are achieved.
Marek Synowiec joins team as Senior Software Engineer. Actisense proudly give users free access to their software and Marek will join the busy team in creating ever-more useful tools for Actisense customers.
Beth Soden joins the team as Sales & Marketing Coordinator, following graduation from Cardiff University. Beth will be a valuable support resource for both the sales and marketing functions in the business.
Josh Keets is the company's new Technical Support Engineer and will be customers' first port of call when requiring technical assistance with their Actisense products.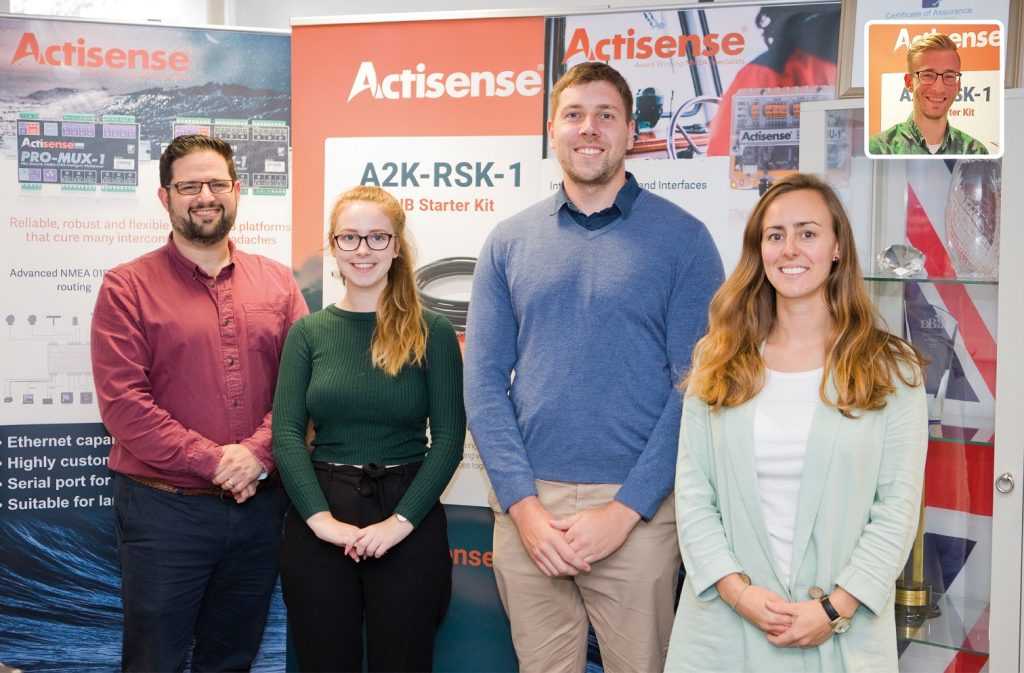 Justin Cohen, Beth Soden, Marek Synowiec, Amy Miles, Josh Keets
The new hires reflect the continuing expansion of the Poole-based company, which serves both the leisure and commercial marine markets across the globe.
Welcoming the new team members, Phil Whitehurst, CEO of Actisense said:
"I am delighted to welcome Justin, Amy, Marek, Beth and Josh to the company. Their contributions are already making a big difference to the Actisense team, and we are delighted to have them on board.
Our growing team is a reflection of our growing global reach. With 28 members in the team now, Actisense has never been better placed to achieve our company and commercial aspirations."
UK-based Marine electronics specialists, Actisense, have launched a larger version of their popular Self-contained Boat Network.
The device – named SBN-2 – gives boat owners and installers the ability to set up a completely "Plug & Play" NMEA2000® network with a complete NMEA2000® backbone in a single device, simply requiring a power connection. With built in termination resistors, the SBN-2 provides 8 NMEA2000® drops, meaning that up to 8 NMEA2000® devices – including those from their award-winning range – can be connected.
The SBN-2 is manufactured using ruggedised, watertight and flame-retardant over-moulded housing, making it ideal for potentially wet and harsh marine environments. It comes with an integrated EMI shield and a 3 meter UL-Rated power cable.
Phil Whitehurst, CEO of Actisense, said:
"When we released the SBN-1 a couple of years ago, it came with 4 NMEA2000® drops. Our engineering team has been working on ways to give our customers the ability to connect even more devices to their vessels. We are really pleased to unveil the SBN-2 which in effect doubles that capacity for up to 8 NMEA2000® connections – particularly ideal for smaller boats. The SBN-2 is a great low cost option, is highly durable and is quick and easy to install."
The product is set to be revealed at METSTRADE 2019, where Actisense will be exhibiting (Stand 03.132), and is available for pre-order via their worldwide distribution partners.