Keep Up To Date with our latest company and product news
Actisense team grows to support expanding business
Five new talents have been brought in to support the growth of Poole-based Actisense, the market-leading marine electronics company.
Justin Cohen joins the business to take charge of the company's marketing strategy. With over two decades of PR and brand marketing experience, Justin will help identify key growth areas for the business and help to raise the company's presence in those areas.
Amy Miles has joined in the capacity of Compliance Manager. Actisense has proudly achieved ISO9001 and ISO14001 certification and Amy will take the lead in ensuring that those standards are upheld and that key performance metrics are achieved.
Marek Synowiec joins team as Senior Software Engineer. Actisense proudly give users free access to their software and Marek will join the busy team in creating ever-more useful tools for Actisense customers.
Beth Soden joins the team as Sales & Marketing Coordinator, following graduation from Cardiff University. Beth will be a valuable support resource for both the sales and marketing functions in the business.
Josh Keets is the company's new Technical Support Engineer and will be customers' first port of call when requiring technical assistance with their Actisense products.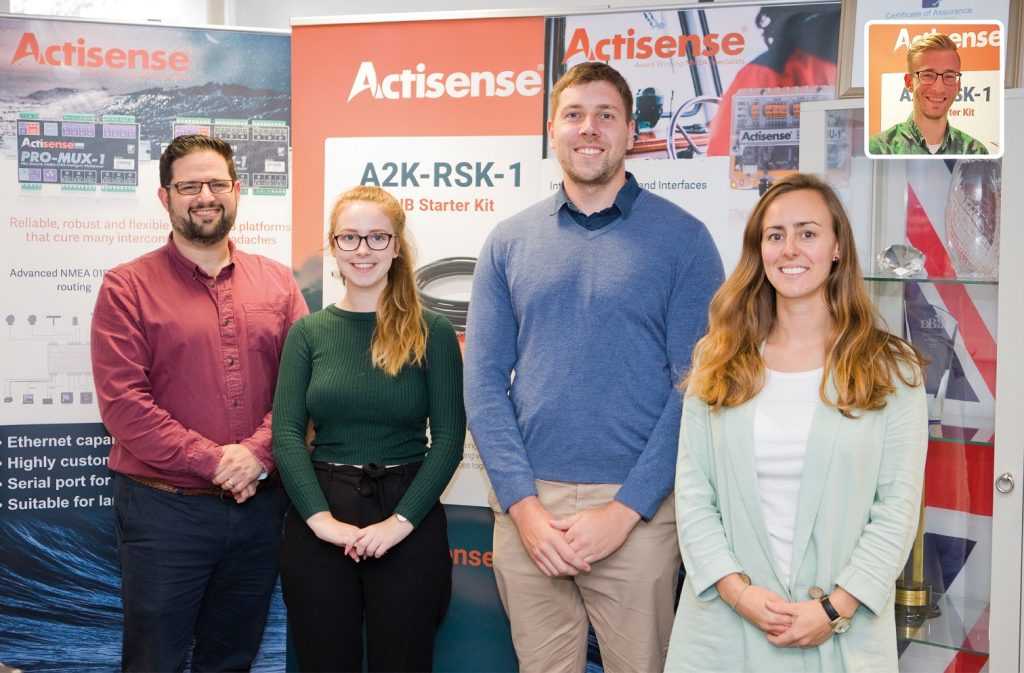 Justin Cohen, Beth Soden, Marek Synowiec, Amy Miles, Josh Keets
The new hires reflect the continuing expansion of the Poole-based company, which serves both the leisure and commercial marine markets across the globe.
Welcoming the new team members, Phil Whitehurst, CEO of Actisense said:
"I am delighted to welcome Justin, Amy, Marek, Beth and Josh to the company. Their contributions are already making a big difference to the Actisense team, and we are delighted to have them on board.
Our growing team is a reflection of our growing global reach. With 28 members in the team now, Actisense has never been better placed to achieve our company and commercial aspirations."
Larger Self-contained Boat Network launched by Actisense
UK-based Marine electronics specialists, Actisense, have launched a larger version of their popular Self-contained Boat Network.
The device – named SBN-2 – gives boat owners and installers the ability to set up a completely "Plug & Play" NMEA2000® network with a complete NMEA2000® backbone in a single device, simply requiring a power connection. With built in termination resistors, the SBN-2 provides 8 NMEA2000® drops, meaning that up to 8 NMEA2000® devices – including those from their award-winning range – can be connected.
The SBN-2 is manufactured using ruggedised, watertight and flame-retardant over-moulded housing, making it ideal for potentially wet and harsh marine environments. It comes with an integrated EMI shield and a 3 meter UL-Rated power cable.
Phil Whitehurst, CEO of Actisense, said:
"When we released the SBN-1 a couple of years ago, it came with 4 NMEA2000® drops. Our engineering team has been working on ways to give our customers the ability to connect even more devices to their vessels. We are really pleased to unveil the SBN-2 which in effect doubles that capacity for up to 8 NMEA2000® connections – particularly ideal for smaller boats. The SBN-2 is a great low cost option, is highly durable and is quick and easy to install."
The product is set to be revealed at METSTRADE 2019, where Actisense will be exhibiting (Stand 03.132), and is available for pre-order via their worldwide distribution partners.
Actisense named regional Small Business of the Year at British Chamber Awards
Actisense, the marine and agritech electronics company based in Poole, UK, has been awarded the British Chamber award for Small Business of the Year – sponsored by Facebook – for the south west region.
Actisense was the only company from Dorset to feature on the list of regional winners and will now represent the county at the national awards finals. Regional winners all go on to be finalists in nine different categories at the Chamber Business Awards Gala Dinner on Thursday 28 November 2019, taking place at Tobacco Dock in London.
Phil Whitehurst, CEO of Actisense, commented on the win:
"It was a wonderful surprise to receive a call from Ian Girling (Chief Executive of Dorset Chamber of Commerce) who let us know this great news! We're proud to be a Dorset-based business and we look forward to flying the Dorset flag at the national award finals."
Recognising and rewarding excellence in British business, the Chamber Business Awards is one of the UK's most contested and prestigious business award programmes. Each year, from Aberdeen to Cornwall, organisations of all sizes and sectors compete for the coveted titles and the national recognition they bring.
Francis Martin, President of the British Chambers of Commerce (BCC) said:
"The Chamber Business Awards are a great opportunity to celebrate the best of British business. Across the country, there are firms of all sizes and sectors thriving and showing their innovation and adaptability, even in the midst of turbulent times. 
"Our businesses communities continue to generate prosperity and opportunity so it's only right that we support and shout about the fantastic things they are doing.
"Each year the calibre of applicants impresses our judges, and this pool of entrants was no different. All our finalists should be proud of their success in reaching this stage and we wish them the very best of luck."
For more information about the British Chambers Awards visit: https://www.britishchambers.org.uk/events/chamber-awards